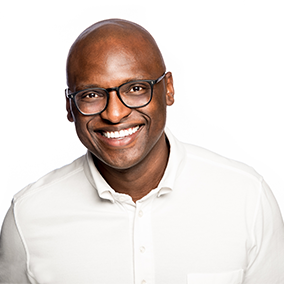 Robbie Robinson
Co-Founder and CEO
Pendulum
Robbie Robinson is a Co-Founder and the CEO of Pendulum Holdings, LLC. Founded in 2019, Pendulum is a strategic growth investing and advisory platform that seeks to accelerate opportunity and value creation for founders and leaders of color. Pendulum's mission is to create a system that reimagines how great companies are built and redefines who gets to build them.
Prior to co-founding Pendulum, Robbie was a Partner at BDT & Company and played an integral role at the firm since its inception in 2009. At BDT, Robbie was responsible for both investing in and advising family and founder-led companies. Additionally, he worked with and was responsible for managing several of the firm's priority limited partner and client relationships. In 2017, Robbie took a one-year sabbatical to work with President and First Lady Obama on strategic matters related to their post-presidential business endeavors. Robbie began his career with Goldman, Sachs & Co. where he spent many years working in various investment, advisory and financing capacities.
Robbie is a trustee of the Los Angeles County Museum of Arts, council member of the National Museum of African American History & Culture, and Board Member of the Pulitzer Center on Crisis Reporting. Additionally, since 2014, Robbie has served as Vice Chair of the Board of Directors for After School Matters in Chicago, the largest after school program in the country. Most recently, Robbie became a Board Member of Oscar Health, Inc. a publicly traded health insurer.
Robbie graduated from Morehouse College where he received a Bachelor of Arts in Political Science. In 2015, The Robbie Robinson Finish Line Scholarship was created at Morehouse to provide last resort funding for graduating seniors and to date over 200 Morehouse students have received the scholarship.
Community Sponsors
Mission Sponsors